CMM Trainee Service Engineer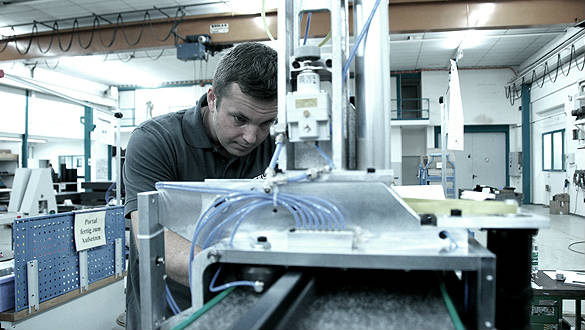 Job Title: Trainee Service Engineer.
Position: Full Time, Permanent.
Salary: £18,000 – 22,000 DOE + vehicle + credit card + phone.
Hours: 38 per week, 8.30 am. to 5.00 pm. Monday to Thursday and 8.30 am. To 3.00 pm. Friday.
Area: Based out of Nottingham, covering the whole UK.
Main purpose of the role
Due to recent expansion, we are looking to recruit a trainee service engineer to build and learn from an existing, experienced team. The role requires extensive travel throughout the UK and some European travel. All expenses are paid. We are looking for someone preferably with a technical background. The role would suit someone who has recently finished a mechanical or electrical apprenticeship.
Duties will include, but not limited to
•Servicing and calibrating horizontal arm measuring machines.
•Breakdown repairs in-house and at customer premises.
•Fault finding, diagnosing, and repairing of machinery.
•Decommissioning, moving, and re-commissioning of machinery.
•Installation of new equipment at customer premises direct from the factory.
•Retrofitting third party CMMS.
The ideal Trainee will possess
•Competent I.T. skills.
•Good technical competence.
•Self –motivated and proactive.
•A natural communicator with good time management skills.
•Ability to engage with people of all levels
•A desire for a long-term position with an appetite for learning and growth.
•Full UK driving license with no more than 6 points.
•Flexible with stopping away from home.
About the Company
Innovation Meets Tradition. Welcome to the WENZEL Family!
Our name stands for the highest precision, reliability and the latest technology. As a manufacturer of measuring machines, we are partners and experts in the fields of coordinate measuring machines, optical high-speed scanning and computed tomography.
Since we are a family-owned company, we have a unique view on customer support which provides you with the best, personal support you can get from a global player – we may think globally but we act locally!
We will Offer You
We place real value on the work our employees carry out for us. In return, we offer a comprehensive salary with annual pay reviews. A fully expensed company vehicle moving on to a vehicle allowance once trained. Private use of the vehicle is allowed but you will pay for your own mileage. Extensive in-house, on the job and factory-based training. A company phone, laptop and credit card come with the role. All expenses including fuel, hotels and evening meals are paid for by the company and a lunch allowance is also included. We also offer a company pension, a generous annual leave allowance plus Christmas shutdown.
To apply please send a covering letter and CV to james.lowndes@uk.wenzel-cmm.com